As a member of Henley Golf Club you are not simply becoming a member of one of the finest Clubs and golf courses in the region, you are buying into a piece of history. We have used our Club name and standing in the community to secure numerous golfing and social benefits on behalf of the membership. These include special green fee rates at several regional Clubs and more than 300 James Braid courses spread across five countries.
On the business front we are working with restaurants and other businesses to secure you a good deal.
Please take a moment to look at our sponsors page and give them your support in the same way that they support your Club. Be sure to mention Henley Golf Club in any dealings you have with them!
Guest Green Fees
| | |
| --- | --- |
| Members are entitled to sign-in their accompanied guests at the following discounted rates: | |
| All day ticket | £30.00 |
| 18 holes | £25.00 |
| 18 holes (After 3pm, winter course) | £20.00 |
| 9 holes | £15.00 |
The Association of James Braid Courses
The AOJBC is administered by Henley Golf Club.
Formed in 2009 by one of Henley Golf Club's Past Captains and Past President, the Association now has over 300 member clubs of the some 411 courses James Braid either designed originally or altered (of the 411, 39 are defunct and 6 were plans only).
The courses are to be found in Ireland, Wales, England and Scotland with one in New York. Henley Golf Club members and members of all the clubs in the Association can enjoy preferential green fees at these courses, by booking in advance.
The list is updated each year with new member clubs.
Download the full list by clicking the photo below.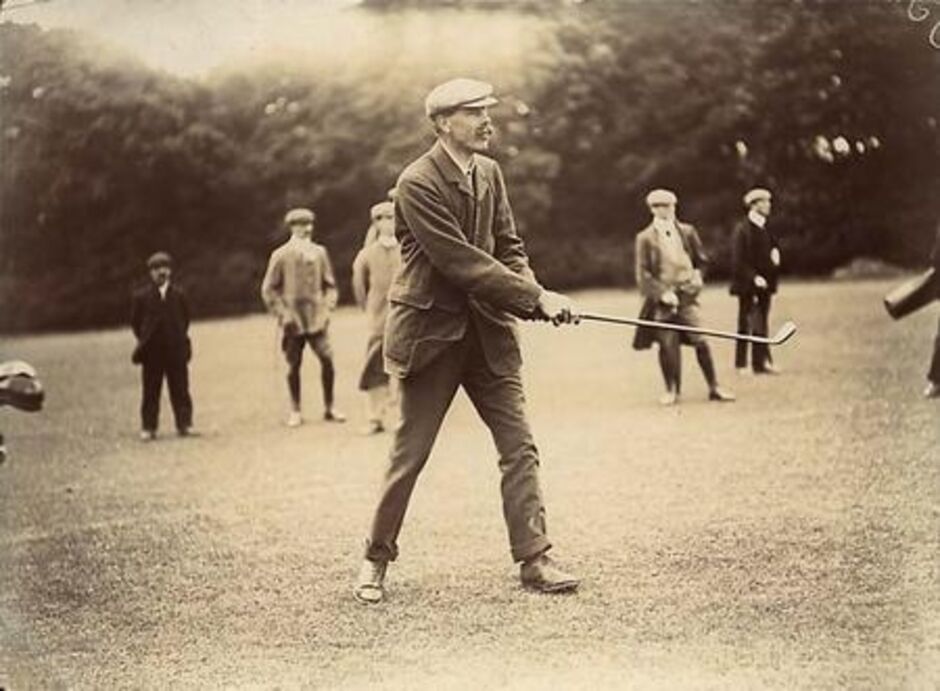 To view a map of the courses currently included in the Association click here for access to the map and navigating instructions.
Copies of "James Braid and his Four Hundred Courses" is available from either golf@grantbooks.co.uk ormail@verandahbooks.co.uk
400 yard driving facility
In 2010 we opened our 400+ yard driving facility to complement our existing mid range and short game practice areas. Located at the top of the course, the facility has more than enough room to cater for large groups under coaching or individual practice. For safety reasons members are not to use their own balls but must purchase a basket or two from the Pro shop in advance of their visit.
Davis Tate estate agents
Davis Tate estate agents are sponsors of our 16th tee have put together an exclusive offer for Henley Golf Club members requiring estate agency services. Any member considering buying, selling or letting their property should contact Davis Tate through their website www.davistate.com or call 01491 412345.
Hotel du Vin 4 for 3 offers
The offer at Hotel du Vin & Bistro for all members of Henley Golf Club has been extended. The new deal includes:
4 for 3 in the Bistro lunchtime (Monday-Saturday) and dinner (Sunday - Thursday)
4 for 3 on Hotel events listed on Events Calendar attached.
10% off best available rates for accommodation at the hotel Sunday-Friday excluding Regatta and festival dates and seasonal events including Christmas/New Year.
10% off afternoon tea (Monday-Friday)
On 4 for 3 deals the cheapest meal is free.
The offer is reflective of what you eat. For example, if all 4 diners eat 3 courses the cheapest 3 courses are free or if all 4 diners eat only a main course the cheapest main course is free.
Not in conjunction with any other offers.
Not in conjunction with any promotional menus.
Beverages not included in the offer.
There is no requirement to book in advance - simply show your Henley Golf Club Card to your server before the bill is presented.
Hole in One offer
If you score a hole in one at Henley Golf Club Hotel du Vin will give you a free bottle of champagne to be collected from HdV Henley as long as the hole in one is verified by the office.